I've been failing at making a perfect macaron for years, and took a class last week on them which seems to have lifted the veil!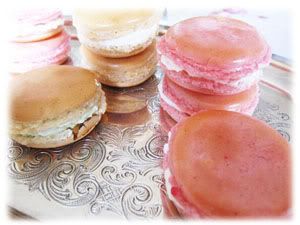 I made a batch of raspberry flavor, vanilla flavor, and my all time favorite rose flavor! It was so exciting to finally get a perfectly round, soft yummy macaron at last! I hope to be able to make some violet ones next maybe? My tips for success are...
1: Wait! Definitely leave the whites out at room temp for the 3 days recommended, and let the macarons rest for the full 15 mins before baking them, and wait till the next day to eat them. I could never cope with all that waiting before but it really pays off!
2: to get multiple flavors from one batch, make a classic french butter cream to fill them, separate it into as many containers as you want flavors and flavor and dye each batch separately.
3: Remember art school! If doing say 3 flavors, pipe the first set plain white, the second add a little pink dye before adding to the piping bag, the second a little blue or yellow to make lilac or orange colors. You'll be able to get so many combos from one batch and really make a splash when you serve so many varieties for the same work as one!